Brittany Bouyer is a Chicago, Illinois based fine artist and illustrator known for her rich color palettes, floral design and feminine messaging. Her work can be recognized by her organic line work, symmetry and art nouveau details
Collections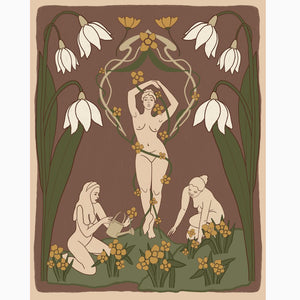 Embody Femininity Collection
As women, we are all in this journey of life together. while we need to continue to support each other in everything we do, we also have to remember that we cannot pour from an empty cup. It's important we always remember to empower and sustain ourselves before we can give to others.
Rainbow Mama Collection
This collection was a tribute to all the women, including myself that struggled with infertility and pregnancy loss. These pieces are emotional and created as moments of healing for anyone in the same club.
Bodies are Beautiful Collection
This collection of work is to celebrate women and our true nature: our bodies and our unique personalities. We must take a break from the constant battle within ourselves to be "better," because I hope you know now, that you are truly beautiful just the way you are. No more hiding ladies, it's time to step into a place of confidence and self acceptance, because THAT is true beauty.
WANT TO WORK WITH BRITTANY?
All illustrations and designs produced on this website and shop are exclusive property of Brittany Bouyer. These images may not be reproduced, copied, transmitted or manipulated without written permission from Brittany Bouyer.