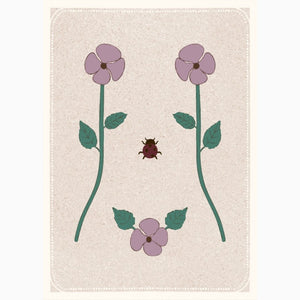 Bodies are Beautiful Collection

As women we've spent our entire lives trying to live up to standards placed on us by other people. We've been taught that we needed to look and act a certain way that wasn't natural to us. This collection of work is to celebrate women and our true nature: our bodies and our unique personalities. We must take a break from the constant battle within ourselves to be "better," because I hope you know now, that you are truly beautiful just the way you are. No more hiding ladies, it's time to step into a place of confidence and self acceptance, because THAT is true beauty.

This print features a tan textured background with the illusion of a woman's torso with flowers.
"Love is the flower you've got to let grow."– John Lennon
Please note that my artwork uses brush textures and can have a varied texture throughout and are intentional and part of my style.
Size: 5" x 7" 

Open Edition
Edge to edge design (no borders)
Frame not included
High quality art print details: archival matte paper 230 gsm, smooth, neutral-white, matte finish, printed with acid-free ink