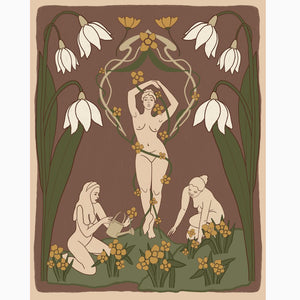 Embody Femininity Collection

As women, we are all in this journey of life together. while we need to continue to support each other in everything we do, we also have to remember that we cannot pour from an empty cup. It's important we always remember to empower and sustain ourselves before we can give to others.

This illustration is showing how women can grow when they surround themselves with others who lift them and encourage them.

"Behind every great woman... is another great woman." -Kate Hodges

Please note that my artwork uses brush textures and can have a varied texture throughout and are an intentional part of my style.
Size: 11" x 14" 
Open Edition
Edge to edge design (no borders)
High quality art print details: giclée archival matte paper 230 gsm, smooth, matte finish, printed with acid-free ink